Next Movers efficient and reliable cargo services play a pivotal role in connecting businesses and individuals across different regions. The trade and exchange of goods between countries are the lifeblood of economies, and the ability to transport cargo swiftly and securely is crucial. One such significant trade route is from Abu Dhabi, the capital of the United Arab Emirates, to Erbil, a dynamic city in the Kurdistan region of Iraq. This article delves into the professional cargo services that facilitate seamless transportation between these two cities.
Road Cargo to Erbil From Abu Dhabi
Our professional services offer a seamless and reliable road cargo solution from Abu Dhabi to Erbil, ensuring your goods reach their destination with efficiency and care. With years of experience in the logistics industry, we understand the importance of timely and secure deliveries. Our dedicated team of experts meticulously plans and executes each step of the journey, from initial pickup to final drop-off. We prioritize the safety of your cargo, using state-of-the-art tracking systems to monitor your shipment's progress throughout the route. Our fleet of well-maintained vehicles is equipped to handle various types of cargo, providing a versatile solution to your transportation needs. By choosing us for your road cargo needs from Abu Dhabi to Erbil, you're selecting a partner dedicated to professionalism, punctuality, and the secure delivery of your goods.
Air Cargo to Erbil From Abu Dhabi
Our dedicated team of experts is well-versed in the intricacies of air cargo logistics, equipped to handle a wide range of commodities, from commercial to personal shipments. Leveraging our strong partnerships with leading airlines, we guarantee the best possible routing options and competitive rates for your cargo needs. Operating from Abu Dhabi, a global hub of commerce, our services provide a vital link to Erbil, a key city in Iraq's economic landscape. Whether you are a business looking to expand your reach or an individual sending essentials to loved ones, we tailor our services to meet your unique requirements. From efficient packaging to smooth documentation, we take care of every aspect of the shipping process.
Sea Cargo to Erbil From Abu Dhabi
Efficient sea cargo services from Abu Dhabi to Erbil offer businesses a reliable and cost-effective solution for transporting goods. With Abu Dhabi's well-connected ports and extensive experience in international trade, the route to Erbil, a key city in Iraq, is seamlessly facilitated. Professional services in this domain provide expert guidance in handling customs procedures, documentation, and cargo tracking, ensuring a smooth transit process. The advantage of sea cargo lies in its ability to handle a diverse range of cargo types and sizes, making it suitable for various industries. By opting for sea cargo to Erbil from Abu Dhabi, businesses can benefit from a dependable and efficient shipping solution that contributes to the smooth flow of goods and the growth of trade relationships in the region.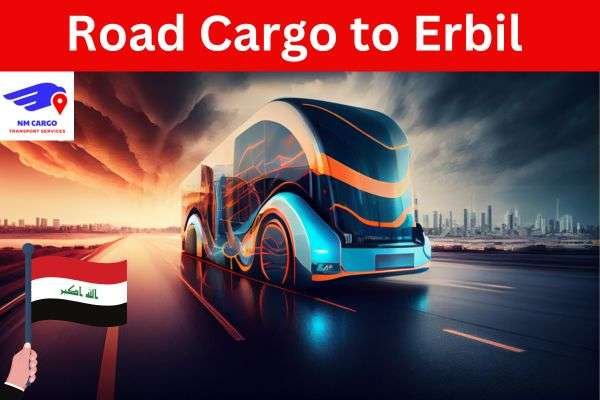 FCL Container Cargo to Erbil
FCL (Full Container Load) cargo to Erbil, you need a professional service that understands the complexities of international logistics. Our dedicated team specializes in handling FCL container shipments to Erbil, ensuring a seamless and efficient process from start to finish. With years of experience, we have developed strong partnerships with reliable carriers, allowing us to offer competitive rates and flexible scheduling options. Whether you're importing or exporting goods, our expertise in customs procedures and documentation will help you navigate the complexities of international trade effortlessly. We prioritize the safety and security of your cargo, ensuring it reaches its destination in Erbil intact and on time.
LCL Container Cargo to Erbil
LCL (Less than Container Load) cargo to Erbil, one can rely on our professional services for a seamless and efficient experience. Our expertise in handling LCL container shipments ensures that your cargo, regardless of its size, is carefully packed, documented, and shipped to Erbil with the utmost precision. We understand the unique requirements of LCL cargo, and our dedicated team is well-equipped to consolidate your shipments, optimize costs, and provide real-time tracking for complete visibility throughout the journey. Whether you're a business looking to transport goods or an individual with personal items to send, our professional LCL container cargo services to Erbil offer a reliable and cost-effective solution, ensuring your cargo arrives safely and on time.
Commercial Item Cargo to Erbil
Cargo commercial items to Erbil, Iraq, demand specialized professional services that understand the unique challenges of this region. From navigating customs regulations and documentation to ensuring secure transportation, these services streamline the process. They offer expertise in handling commercial cargo efficiently and cost-effectively, making them essential partners for businesses seeking to access the Erbil market. With their local knowledge and global reach, these professionals provide a crucial link in the supply chain, ensuring that commercial items reach their destination in Erbil smoothly and on time. For businesses looking to expand their reach into Erbil, these services are indispensable.
Personal Effects Cargo to Erbil
Cargo personal effects to Erbil, you need professional services you can trust. Our dedicated team specializes in handling personal cargo, ensuring that your belongings reach Erbil safely and securely. From meticulous packaging and documentation to efficient transportation, we take care of every aspect of your personal effects cargo, providing peace of mind during the entire process. With years of experience and a commitment to excellence, we make sure that your cherished belongings are handled with the utmost care and delivered to Erbil on time. Choose our reliable personal effects cargo services for a hassle-free shipping experience.
Household Furniture Cargo to Erbil
Cargo household furniture cargo to Erbil, you need a professional service provider you can trust. Our specialized team understands the unique challenges of transporting fragile and valuable items like furniture. We offer secure packaging, efficient transportation, and expert handling to ensure your furniture reaches Erbil in pristine condition. With a commitment to timely delivery and competitive pricing, we make the process hassle-free, allowing you to enjoy your new home setup without any worries. Choose our professional services for a seamless experience in moving your household furniture to Erbil.
Car Cargo to Erbil From Abu Dhabi
Transporting your car from Abu Dhabi to Erbil can be a complex endeavor, but professional car cargo services make it seamless. With their expertise in customs procedures, documentation, and secure transportation, you can trust your valuable vehicle to arrive safely and on time in Erbil. These services offer peace of mind and convenience, ensuring your car reaches its destination hassle-free. Whether you're relocating or need to transport a vehicle for other reasons, professional car cargo services from Abu Dhabi to Erbil are the way to go.
Auto Spare parts cargo To Erbil
Shipping auto spare parts to Erbil requires precision and reliability. Professional cargo services specializing in this niche ensure that your valuable spare parts reach Erbil safely and on time. From proper packaging and documentation to expert handling and transportation, these services understand the unique requirements of shipping auto spare parts and provide tailored solutions. With a focus on efficiency and security, they offer peace of mind, knowing your cargo will arrive in Erbil intact and ready for use, supporting the automotive industry and businesses in the region.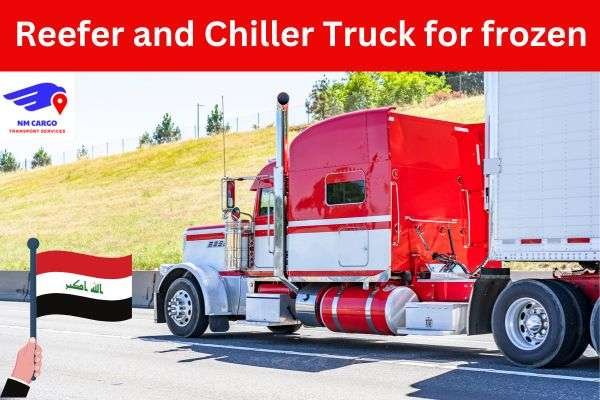 Frozen Reefer and Chiller Truck for Cargo
Our professional cargo services offer state-of-the-art frozen reefer and chiller trucks, ensuring the safe and temperature-controlled transportation of your perishable goods. With our specialized fleet, we maintain the integrity of your cargo, whether it's frozen goods, pharmaceuticals, or sensitive food products. Our refrigerated trucks are equipped with cutting-edge technology to monitor and maintain precise temperature settings throughout the journey. Trust us to provide reliable and efficient frozen cargo transportation solutions, meeting the highest standards of quality and compliance to keep your products fresh and safe from start to finish.
Frozen egg cargo services offer a specialized and crucial solution for the transportation of frozen eggs, which are a valuable commodity in various industries, including food processing and medical research. These services are equipped with the necessary infrastructure, temperature-controlled facilities, and expertise to ensure the safe and efficient transportation of frozen eggs.
Frozen fish cargo services are tailored to meet the unique needs of the seafood industry. With a keen focus on maintaining the integrity of your frozen products, we offer state-of-the-art refrigerated storage and transportation solutions. Our team of experts ensures that your valuable cargo remains at the optimal temperature throughout the journey, adhering to the strictest quality standards.
Professional Services excels in managing frozen meat cargo, ensuring the seamless transportation and preservation of temperature-sensitive goods. With a dedicated team of experts, cutting-edge refrigeration technology, and a meticulous approach to logistics, we guarantee the safe and efficient handling of your frozen meat shipments. From storage to transportation, we prioritize quality control and compliance, ensuring your cargo reaches its destination in pristine condition.
Professional Services excel in managing Frozen Vegetables cargo, ensuring the preservation of freshness and quality throughout the supply chain. With specialized expertise, we offer temperature-controlled logistics solutions, stringent quality checks, and timely delivery to meet the demands of the frozen food industry.
Frozen milk water cargo with precision and expertise. We understand the unique requirements and delicate nature of transporting frozen dairy products, ensuring that your cargo arrives in optimal condition. Our team is well-versed in temperature-controlled logistics, maintaining the integrity of your goods from origin to destination.
We specialize in ensuring the safe and efficient transport of frozen treats, maintaining optimal temperatures throughout the supply chain. Our team of professionals is well-versed in industry regulations and best practices, providing comprehensive support from logistics planning to temperature monitoring.
Frozen Chicken Cargo | Next Movers
Professional Services specializes in managing frozen chicken cargo shipments. With extensive expertise in logistics and cold chain management, we ensure the safe and efficient transportation of frozen poultry products. Our team meticulously plans and monitors each stage of the cargo journey, from packaging and storage to transportation and delivery.
The Importance of Cargo Services
Cargo services have transformed the way businesses operate. Whether it's the export of goods, supplies, machinery, or other essential items, a dependable cargo service ensures that deliveries are made on time and in optimal condition. The route from Abu Dhabi to Erbil is of particular importance due to the economic ties and trade relationships between the UAE and Iraq. The UAE's position as a regional trade hub makes it a significant partner for countries like Iraq.
Transporting goods across international borders is not without its challenges. The cargo industry must navigate a complex web of regulations, customs procedures, documentation, and logistical hurdles. These challenges can often lead to delays, increased costs, and sometimes damage to goods if not handled properly. As a result, it becomes imperative for cargo service providers to offer comprehensive and professional solutions that address these issues.
Professional Cargo Services
Cargo companies that specialize in the Abu Dhabi to Erbil route offer a range of services designed to streamline the process and alleviate the burden of logistics for their clients. These services include:
Navigating customs regulations is a critical aspect of international trade. Professional cargo services are well-versed in the customs requirements of both the UAE and Iraq. They ensure that all necessary paperwork and documentation are in order, reducing the risk of delays and ensuring a smooth customs clearance process.
Proper packaging is essential to safeguard goods during transit. Professional cargo services employ packaging techniques that protect items from potential damage due to handling, weather, or other external factors.
Efficient logistics are the backbone of successful cargo transportation. Cargo companies with expertise in this route optimize their operations to ensure timely pick-up, efficient routing, and timely deliveries. They leverage technology to track shipments in real-time, providing clients with visibility and peace of mind.
Despite all precautions, unforeseen circumstances can occur during transit. Reputable cargo service providers offer insurance options that cover potential losses or damages, providing clients with financial protection.
Clear communication and responsive customer support are crucial for addressing client concerns and inquiries. Professional cargo services have dedicated customer support teams that provide assistance at every step of the shipping process.